IMS designs electric pusher-tractors to support industrial heavy rolling load needs.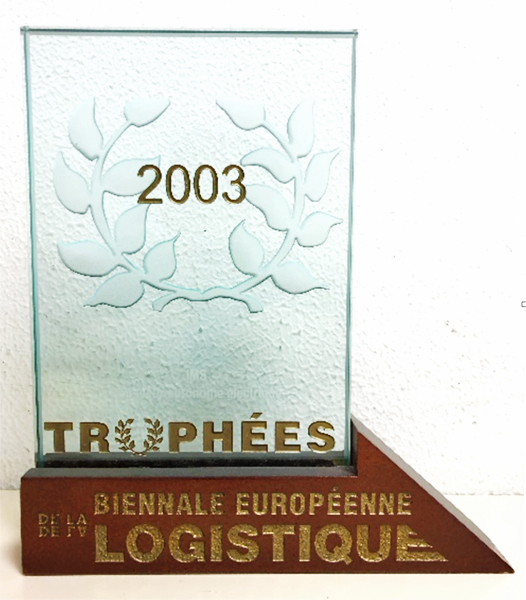 The forerunner of the electric micro pusher-tractor concept, and French winner of the 2003 Innovation Award for this, IMS continues to perfect its pusher-tractor concept today, by offering a concentrate of technology, the ultimate equipment for industrial sector rolling load handling.
IMS micro pusher-tractors are autonomous, manoeuvrable, and compact, for effortless rolling load handling.
Powered, radio-controlled, omnidirectional displacement equipment
Discover our product ranges...
These electric pusher-tractors are among the most compact in their class. They can be used to move loads weighing from 500 kg to 15 tonnes that are positioned on 4 wheels.
As they are disengageable, pusher-tractors can move without motorisation or energy.
Once placed near the trolley to be motorised, a simple push of a button is required to couple them securely to the chassis of said trolley, as required for perfectly controlled handling.
Control is flexible, via a variable speed drive which provides total handling control.
Battery range permits the frequent movements required in an industrial environment. Battery may be removed from the equipment without tools, allowing for simple interchange.
The auxiliary charger does not require a specific "battery charging room". The equipment can thus safely be charged in the workspace.
These devices meet current manufacturing criteria and standards, and ensure increased productivity while mitigating the laboriousness of daily traction needs.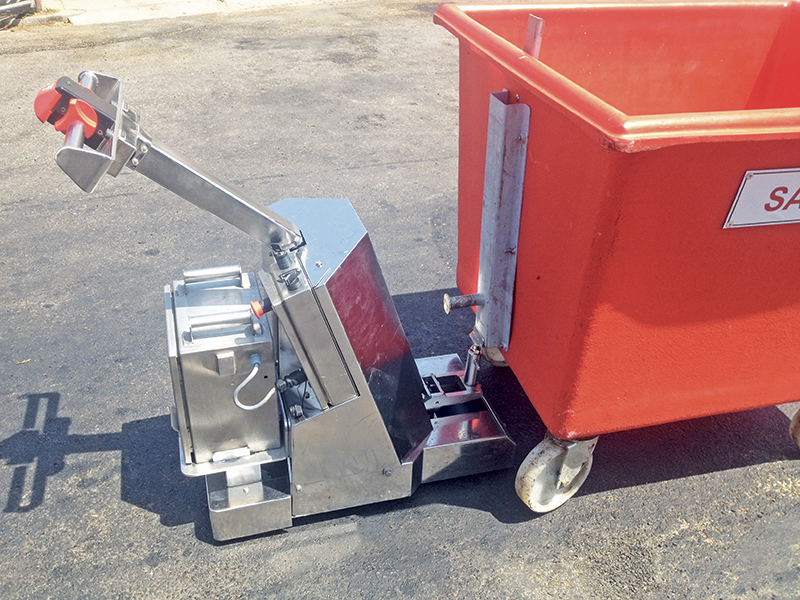 Model

MC-500

MC-1000

MC-2000

MC-6000

Slow speed (factory adjustable)

Acceleration / Deceleration

Weight (including battery)

Lever actuated by electric cylinder

Maximum laden weight on wheels**

Mass to be moved on rails

Approximately 30 times the pulling force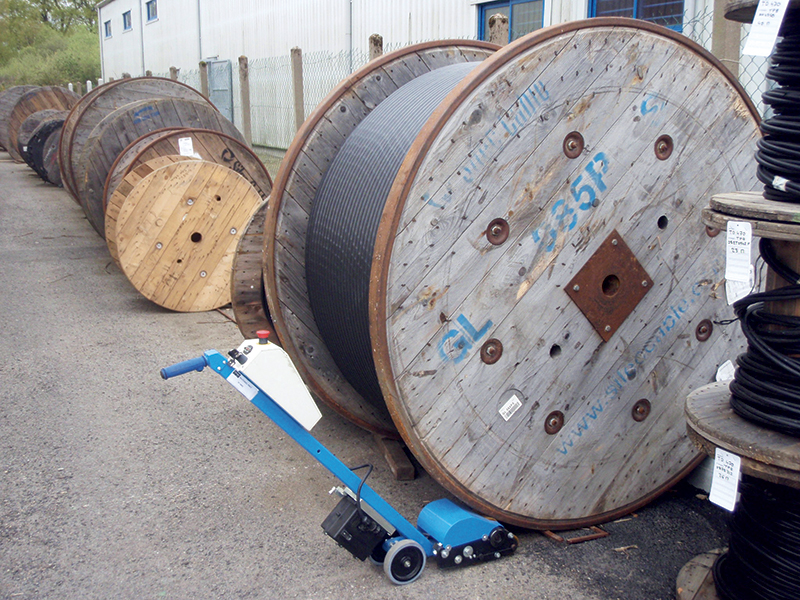 PR range electric roll kickers are essential companions in paper mills and cable manufacturing facilities.
They are also essential in environments where cylinder-shaped loads need to be moved (e.g., truck and bus tyres, construction equipment, etc.).
A combination of electrically-driven polyurethane rollers in contact simultaneously with the tread as well as the ground allows operators to effortlessly push rolling loads.
Equipment battery is interchangeable without tools, allowing for the extended ranged required in industrial use.
The physical efforts to move cable reels and coils are thus addressed thanks to our PR solution, making it the essential tool for players in these sectors.
Model

PR-150

PR-290DG

Slow speed (factory adjustable)

Quick-removal battery rack

Max paper/cardboard weight**
Our TM motorised drawbar, a robust piece of equipment, is fitted with a removable, rechargeable battery.
It provides impeccable ergonomics when moving trolleys fitted with two legs and two wheels.
The adjustable drawbar hitch ball raises the trolley a few centimetres from the ground using an assisted lever principle, so as to place half of the weight on the fixed wheels of the trolley. This hitch ball allows operators to steer the device and its load.
Electric propulsion replaces human physical strength.
Equipped with an electric pallet truck type control drawbar, movement is carried out smoothly and fluidly.
The ergonomics of the gripping drawbar have been designed to enable leverage without significant handling effort.
With the gripping drawbar raised, the TM pusher can be displaced while empty without the need for motorisation or power; as motorisation is automatically disengaged, the second handle thus allows the device to be moved with optimal ergonomics when empty.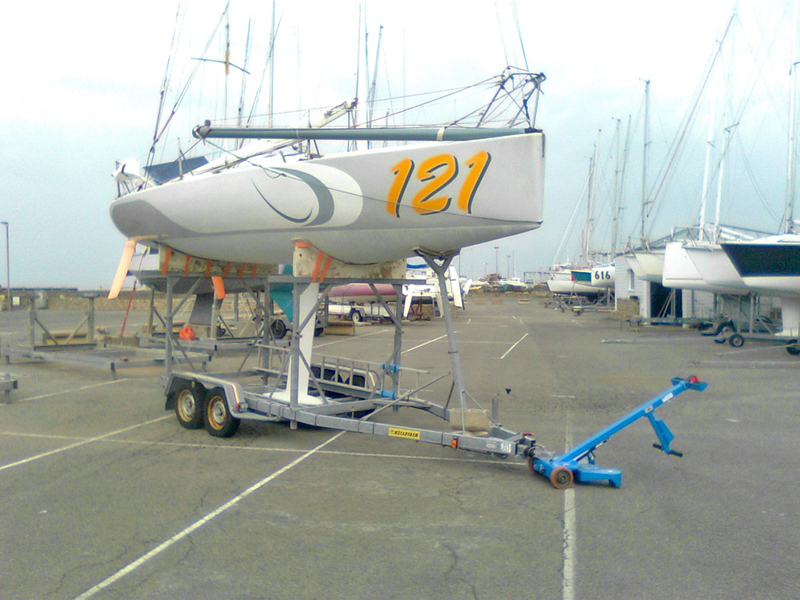 CHARACTERISTICS OF "TM" MODEL:
| Model | TM-200 |
| --- | --- |
| | |
| | |
| | |
| Acceleration / deceleration | |
| | |
| | |
| | Standard hitch ball, diameter 50 mm |
| | |
| Quick-removal battery rack | |
| | |
| | |
| | |
| Maximum trolley weight on wheels | |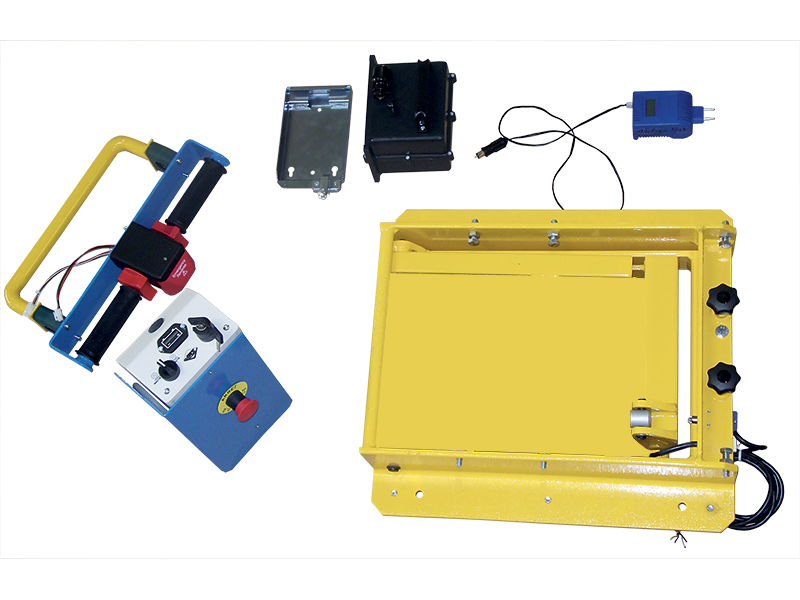 BUILT-IN MOTORISATION SOLUTION
MOTORISATION KITS FOR RETROFITTING
IMS retrofit kits comprise all the subassemblies necessary for motorising existing trolleys already fitted with wheels.
They are composed of a motor unit (disengageable), a control drawbar with a speed control box, as well as a battery pack and charger.
Do you have a wheeled trolley?
Send it to us!
IMS will fit a motorised wired KIT and interfaces on your trolley, and then return a motorised version of your trolley to you.